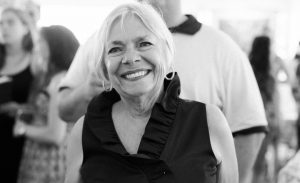 Vita West Muir founded Litchfield Performing Arts in 1981 and has been its Executive/Artistic Director since 1989. Her efforts have guided its evolution into a force in the arts in Connecticut and nationally. Ms. Muir has developed and run many programs, from a top-flight classical series of 20 years' duration featuring artists like the Cleveland Quartet, Richard Goode and Eliot Fisk, to the 20-year-old Litchfield Jazz Festival and its teaching arm, Litchfield Jazz Camp.  The Festival has hosted the pantheon of jazz—Dave Brubeck, Ray Charles, Jimmy Heath, Roy Haynes, Wayne Shorter, Diana Krall and scores more. She hires a Jazz Camp faculty that is no less stellar with artists like Gary Smulyan, Dave Stryker, Don Braden, Matt Wilson, Helen Sung, Orrin Evans, and Avery Sharpe to name a few. This noncompetitive program hosts 350-400 students for a month each summer and distributes $100,000 in need-based scholarship annually.
Muir has secured scores of grants to support LPA's work, at the local, state and federal levels. Her 24-year-old arts-in-education residency, Project Poetry Live!, was selected by the U. S. Department of Education for a major, three-year Model Middle School grant, one of only 32 nationally. She has served on the boards of The Connecticut Junior Republic, Young Audiences, and the Connecticut Commission on the Arts and as an NEA panelist.
Muir received her B.S. in Biology from Fordham University and had a long career as a writer specializing in medical science. She was Managing Editor of The Bioastronautics Data and Biomedical Results of Apollo for NASA and has written for Reader's Digest, Family Health Magazine, and others.
Her awards include Rotary's Paul Harris Medal, The Elizabeth L. Mahaffey Arts Administration Fellowship, the Inge Morath Award, the 2008 Connecticut Governor's Award for Excellence in Culture and Tourism, a Chamber Music America CMAcclaim Award for outstanding service and cultural contributions to the community, the Jazz Journalists Jazz Hero Award for "her impact as a producer and presenter who introduced a world-class annual festival of jazz and educational programs to Litchfield County and beyond," and the Daughters of the American Revolution Award for Excellence in Community Service. In January of 2015, she was presented The Oprah Winfrey Award for Leadership & Exposure by The Scribe's Institute for her exemplary work exposing children and youth to opportunities for advancement and the arts. Most recently, she will become the first recipient of the CultureMAX Lifetime Achievement Award for her work presented by the Northwest Connecticut Arts Council representing a 25-town region.  From her perspective, however, all these things pale in comparison with the hundreds upon hundreds of happy, productive, arts-imbued lives her work