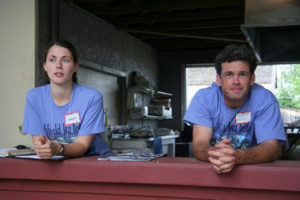 The Litchfield Jazz Festival is a proud production of the not-for-profit Litchfield Performing Arts, Inc (LPA). LPA's internationally renowned Litchfield Jazz Festival is making it's 22nd appearance August 5 & 6, 2017. The Festival will be held at the Goshen Fairgrounds in Goshen, CT.
Volunteers are needed to help set up the week before the Festival (Monday 7/31 – Friday 8/4) if you are interested in Festival set-up, please contact us with your availability, the help is greatly needed! The weekend of the Festival, volunteers are needed from 8AM to 5PM on Friday 8/5 and 10AM to 10PM on Saturday 8/5 and  10AM to 9PM Sunday 8/6. Volunteers can opt for full or half-day shifts from 10AM – 4PM and 4PM – 10PM (9PM on Sunday). Volunteers are also needed the day after the Festival and for strike on Sunday night.
We need your help with the following:
Poster/flyer distribution
This is easy and fun! Distribute brochures and posters in your area at local banks, post offices, restaurants and hot spots. And of course, pass them along to your friends! Call us at 860-361-6285 or email us at volunteer@litchfieldjazzfest.com to request materials.
Pre-festival set-up:
Able-bodied volunteers needed to help the tech crew with setting equipment on Monday, July 31 through Friday, August 4th.
Post-fest strike:
Immediately after the Festival on Sunday night to help the tech crew load out. Did you ever participate in a play or show as a student? Strike is a fun way to close out a weekend of hard work and a job well done.
Day after Pack-up/ Clean-up:
NOT Glamorous but VITAL! And we will love you forever! Help pack signs and supplies and bring them to the storage unit on Monday, August 7th. Festival grounds need to be left clean so we will be welcomed back next year.
Other tasks:
Stage Crew
"Scat & Scramble" Jazz Brunch Crew
Beer & Wine Servers (TIPS certification required, contact us for details)
CD Sales
Ticket Booth
VIP Hospitality
Artist Hospitality
Runners
Ushers
Parking & Security Assistants
Survey Team
Base Operations
For more information on volunteering for the Festival email volunteer@litchfieldjazzfest.com or call us at 860-361-6285.
Apply to Volunteer:
To apply to be a volunteer, register online HERE.
The Perks:
– A complimentary lawn ticket for the day of your choice
– All volunteers also receive a complimentary Litchfield Jazz Festival T-shirt in a color exclusively available to volunteers, with our undying gratitude.
– Pre-Festival set-up and post-Festival strike teams will receive complimentary lunch on their volunteer day.
Why should you become a Litchfield Jazz Fest volunteer?!  Click below to watch a video and find out today!