Litchfield Performing Arts has produced a great number of projects since the organization's beginnings in 1981. Here is a brief look at some of our past programs.
WestConn/LPA Jazz Fest

Litchfield Performing Arts presented a weekend of jazz workshops for high school and college jazz bands and performances for two years and then teamed up with Western Connecticut State University for six more years. The program's funding ended in 2007.
Clinicians included, Mark Whitfield, Reggie Workman, Don Braden, Terell Stafford, Matt Wilson, Dave Stryker, Fred Hersch, John Benitez, Slide Hampton, Paquito Rivera, Conrad Herwig and many more. Special guests included Roy Haynes, Phil Woods, Chick Corea, Dave Holland and others.
---
Greenhouse – The Litchfield Dance Camp
For three years (2003-2005) Litchfield Performing Arts ran a month-long day and residential dance camp, which offered modern, tap, ballet, African, hip-hop and more. It was an opportunity for teens and adults from all over the world to learn from world-class dancers & choreographers and all students performed at the jazz festival. The program was featured in TIME Magazine and on CNN.
---
Project Dance Live!
For five years (2001-2005) Litchfield Performing Arts ran a mentoring and employment project for inner city teens who, under our direction, became a dance company. Project Dance Live! ran in partnership with the Northwest Connecticut Regional Workforce Investment Board. Students were taught dance, academics, life and business skills year-round and participated as scholarship boarding students at Greenhouse. (photo: Lindsey Muir)
---
Come Home To The Classics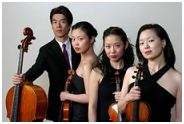 Litchfield Performing Arts began in 1981 presenting classical chamber concerts in the home of its founder and executive director. This Command Performances Series ran for 20 years. After a two-year hiatus, Litchfield Performing Arts launched a new classical series called "Come Home to the Classics." The series ran for two seasons (2003-2005). The series was in partnership with the Litchfield Community Center who hosted the event, Litchfield Bancorp and Waterbury Hospital who helped fund it.
---
ArtsConnect
ArtsConnect operated for three years (2001-2003). It was a collaboration between Litchfield's public High School and Litchfield Performing Arts with funding provided by the Waterbury Foundation and the Connecticut Commission on the Arts. Developed by 7th grade teachers, administrators, LPA staff, and local and internationally known artists/ performers, it involved the entire 7th grade class. The leading goal of the program was to immerse students in a year-long endeavor integrating the visual and performing arts throughout the entire curriculum.